Design Thinking First Aid
Design thinking under suboptimal conditions
In our one-day 4 x 90 minute online live seminar you will get effective antidotes against suboptimal conditions in your Design Thinking sprint or your Design Thinking project. You will receive ad-hoc first aid and life-saving measures.
We specifically answer the question: "Which obstacle effects do we know and how do we ideally deal with them so that our Design Thinking Sprint / project can still be a success?
We all know the optimal framework and success principles for Design Thinking sprints and projects:
An inspiring working environment
We can work in a face-to-face format
A multidisciplinary team
Only voluntary participants with an ideal mindset
All participants know the methods and tools
There is a strong management mandate
There is a clear unambiguous challenge
Management is also involved as participants
There is sufficient time available
We can use several external sources of trends and inspiration
There is an entire model workshop available for our prototyping needs
Our IT supports us in all digital issues and click dummies and fake sale websites
We pay with our project to the current strategy and vision
We have a clear budget for prototyping and testing
and some more


Design thinking in reality
Let's face it – our Design Thinking sprints and projects usually never run under these conditions. In fact, it is the normality that we always have some limiting factors in "real" life.
At verrocchio we know from experience that many Design Thinking trainers and Agile coaches, who have been trained under ideal lab conditions, have many problems here, when the framework conditions are just not ideal. This makes it all the more important to get concrete "real-life" help at hand.
For facilitators and moderators in the Design Thinking environment, as well as for leaders who want to manage Design Thinking and increase project success probabilities.
At the Design Thinking First Aid Course, you will get answers to the following questions:
With our more than 20 years of experience from well over 2,000 workshops, projects and sprints, Benno van Aerssen and Christian Buchholz have developed many antidotes over the years to mitigate suboptimal project framework conditions or even turn them into advantages.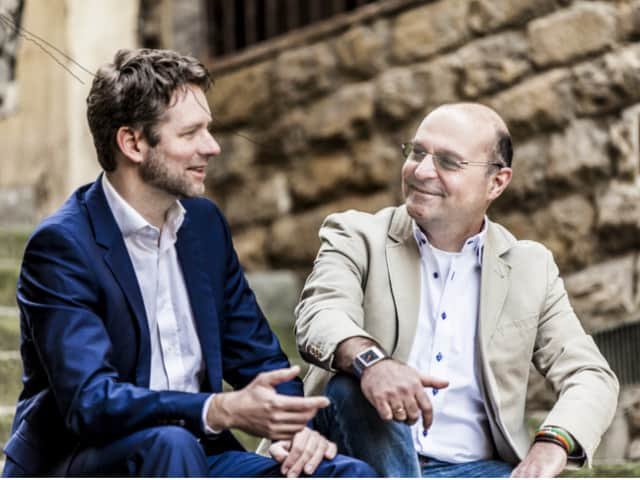 Feel free to request our free "Design Thinking QuickCheck" checklist.
We use the checklist in our seminar and it is guaranteed to help right now to reflect more quickly and clearly on the framework conditions for your next Design Thinking project or sprint.
Look suboptimal framework conditions directly in the eye to increase the probability of success!
Download our free Design Thinking QuickCheck - to get started right away

Try it out now and download the checklist for free.
One-day 4 x 90 minutes online live seminar with Benno van Aerssen
Identification of the ideal framework and its importance for project success
Identification of common obstacle effects and their impact
Presentation and development of countermeasures to mitigate obstacle effects or directly transform them into advantages
Communication and facilitation strategies for participants and stakeholders
Preparation strategies to counteract obstacle effects
New formats (online, blended, hybrid) and how they impact suboptimal conditions
Toolbox with concrete countermeasures
We work online live and with different Miro collaboration boards.
Also, each participant will receive a 30-minute Flex Support ticket (valid for 12 months) to solve individual challenges directly with Benno van Aerssen or Christian Buchholz after the seminar.
Price: 390,- EUR plus VAT.
Request the online live seminar directly here.